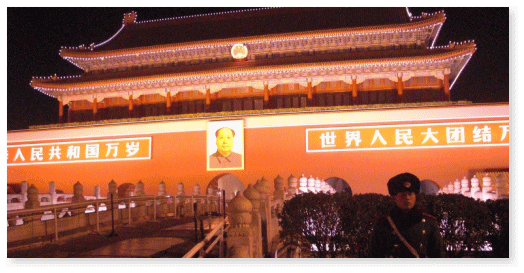 This month I'm here in Beijing.  Last week I was doing consulting work, so this week is my first Location Free week where I don't have any specific reason to be here, I just had lots of computer work to do figured why not stay a few extra weeks!
Accommodation isn't too pricey,  you can get really nice 5 star suites for around 60 GBP or around 30 GBP for a normal businessy hotel.
Food is good, but it's much better when you have people to tell you where is good to eat (same applies in Hong Kong!)  Last week I was out every night with people I was working with and it was gorgeous.  This week everywhere I've tried on my own has been a bowl full of oil with a few vegetables floating in it!  But I guess you get better with practice.
Language wise, you really do need Chinese.  Because I already speak Japanese I'm finding it not too bad as I can actually read most things, including menus, but you really need to be able to speak Mandarin, even in posh hotels and restaurants.
Internet wise, speeds are OK.  Not too much wifi but the hotels seem to have good wired connections.  The biggest inconvenience is banned websites.  Last year one of my sites was banned because it was on a joint hosting IP number.  I had to pay to upgrade it to have it's own dedicated number and, touch wood, it's OK now.  Youtube is currently banned, which is a bit tough as two of my web businesses are Youtube based.  I'm still earning from them, but I can't add anything new.  For my other blogs I've been experimenting with Vimeo for video, which is looking good but of course you lose the benefit of having 5,000 subscribers when you switch systems.  Feedburner feeds also don't work in China which is a bit of a hassle and would be a major hassle if I was actually setting up any new sites here.
People wise, although the girls don't wear make up and most people don't smile(!), the people you do meet are all very nice.  I was working with some great people last week, both in the business aspects and the people in slum areas where we were working were all really nice.  One of the other good things about having an internet company and then coming to a capital city is that over the years you get lots of emails from people asking you to give them a shout when you're in town.  So I think my schedule is full pretty much all this week from work meetings and also just meets up for beers, which is cool.  If you're in Beijing do give me a shout!
Climate, it's really, really nice now, perfect t-shirt weather.  But it is very, very dry, you can really feel it in your skin.  I'm also sat with the window open now and my computer is covered in dust from outside, and there isn't even a sandstorm today.
Days off wise,  there's shopping and just wondering round which is good.  We went to the Forbidden City on Saturday which was cool, and the best thing about Beijing is of course the Great Wall of China, which is just an hour or so out of town!
Over all though it's proving really cool so far, I'll keep you posted how the next few weeks go!

(I hope that's the right video, I can't see it from here!)